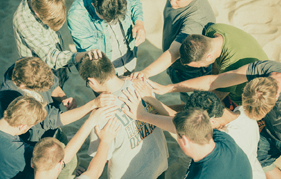 Kid's Church: Midway through the worship service, children in K through 6th Grade will be excused to leave the sanctuary and gather in the classroom for lessons from the children's If you have any questions, please call MJ through the church office, 510-657-3133.
Jr. High and High School Youth: The high school group stay in the church during worship service.
Homework Club: Tuesdays and Wednesdays, Hirsch Elementary School after school hours.
Kid's Club: Monday afternoons at Hirsch Elementary School.
Adult Studies: A Bible Study group meets at 8 AM Sunday mornings, currently studying the Book of Acts. For more information, the contact person is Carole Ann Kinslow.
Women's Bible Study: We meet on Monday mornings, 9:30-11, in the McKowen Room. All women of IPC are welcome to join us.
Men's Bible Study: They meet Friday mornings at 7 AM at Bay Street Coffee, and are presently studying Paul's Epistle to the Ephesians. You may contact Pastor Michael.
Home Bible Studies: There are two home Bible studies in progress, one meeting every other Monday evening at the home of Mary Ellen McKowen, studying the Book of Acts. The other group meets at the Kinslow home on the 2nd and 4th Thursday evenings, studying the Gospel of John.
Breakfast Program: Tri-Cities Free Breakfast serves a hot, sit-down breakfast from 7 AM to 9 AM Monday, Wednesday and Friday. Guests are welcome from 7 AM, volunteers start work either at 5 AM to cook or 7 AM to serve. Contact Lisa Young for Volunteering
IPC LADIES – OUT TO LUNCH: Once a month ladies meet for lunch and fellowship. Call church office for time and place. All are welcome.
Home Bible Studies: Book of Revelation.